Medicare Patients & Dental Implants Procedure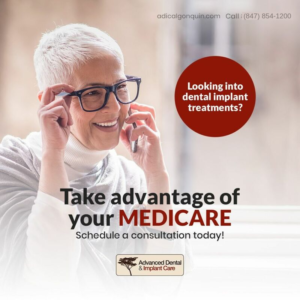 Dental implants are a popular alternative to bridges and dentures for men and women missing one or more of their natural teeth. A dental implant is very secure when attached to the jawbone, so patients don't have to worry about slippage or a loose denture. Also, because a dental implant is designed more like a natural tooth, many patients find implants to be more comfortable.
Tooth loss can occur at any age, but it's much more common as we age — typically after Medicare kicks in. Lots of people think having Medicare means their implant costs won't be covered. However, that's not always the case.
What are dental implants?
Dental implants are a replacement for the tooth's root. Dr. Pottorff will place a connector, or an abutment, on top or built into the implant to support your new tooth. Once placed, a crown, also called a replacement tooth, is custom-made to match your natural teeth, completing the dental implant treatment.


Why do so many patients prefer dental implants?
Patients prefer dental implants treatment to maintain a natural look and feel of regular teeth. Unlike other restorative dentistry treatments, dental implants won't slip or click during daily activities. Implants stimulate natural bone growth, keeping your jawbone healthy and facial structure intact.
Click here for more information on 'dental implants'.
Do teeth play a role in general health?
Teeth are essential for nutrition later in life. Denture patients often become disabled from a poor diet. Patients who have dental implant treatment experience a better quality of life with the teeth firmly attached.
Will Medicare cover the cost of my implants?
It's true, Medicare Parts A and B (also called Original Medicare) don't provide a lot of dental benefits. Routine dental care like cleanings and checkups are not covered, and neither are crowns or bridges. Any dentistry procedure that's considered cosmetic will not be covered either, and according to Medicare's rules, that includes implants. However, there are a couple of exceptions.
Medicare may cover treatments that typically are not covered under Medicare A and B if the procedure is used to correct damage caused by an injury. So if, for example, you fall and knock a tooth out, you may have some of the implant costs covered.
If missing teeth are causing another major medical problem and replacing those teeth can help treat that problem, there may be a case for at least partial coverage under Medicare.
If you have a serious oral health problem that's medical rather than cosmetic, such as an infection, inflammation in your jaw, or loss of bone tissue (called resorption) that interferes with your ability to chew food, implants may be categorized as a medically-necessary intervention, in which case the cost may be covered by Medicare.
What is considered 'Medically Necessary?'
It is well documented in the medical field that oral disease worsens many other organ diseases. Including heart disease where some mouth infections can lead to heart attacks, blood clots (thrombosis) leading to stroke, valvular, and vascular infection. Oral disease adds to the risk of pulmonary (lung) infection and can contribute to pneumonia. Patients with COPD are at high risk of pulmonary infections from mouth disease. Patients who have diabetes are at considerable risk of infections in other parts of their bodies as a result of bacteria from gum disease (pyorrhea). The mouth is a primary target of diabetic infection and poor healing. Patients with GERD and other GI issues have many of these problems due to poor diet and not being able to choose healthy food groups for proper nutrition. A recent study by the cancer society links colon cancer to periodontal (gum) disease and chronic infections in the mouth.
If you experience any of these conditions and you have significant dental disease, you may qualify for medical necessity. You may be eligible to have a portion of primary dental services covered.
How to know if you're covered
The first step in determining if Medicare will cover your implants is to see an implant specialist who also has a deep understanding of current Medicare benefits. As a top implantologist in the greater Chicago area, Dr. Pottorff performs in-depth pre-implant examinations and evaluations to determine if a patient's implants might qualify for Medicare coverage. Then, he'll discuss your coverage options with you, so you have a clear understanding of your benefits and how they apply to your case.
Don't let missing teeth take a toll on your confident smile — or your health! If you'd like to learn more about dental implants and how they can help you look and feel great, call the office at (847) 854-1200 and schedule an appointment today.