Benefits of Bone Grafting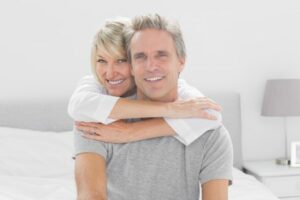 For many, the thought of bone grafting is a scary procedure. Our dentist in the Huntley and Crystal Lake area can explain the many benefits of bone grafting to improve your oral health. Bone grafting specialists emphasize the importance of a bone grafting procedure if you have faced significant tooth loss, trauma, or gum disease. This restorative procedure can significantly benefit your health and restore your smile to its original brightness.
What Does Bone Grafting Do?
Dr. Pottorff performs the bone grafting procedure mainly on patients who have suffered damage to their bone structure or have faced dental trauma. The treatment can restore bone to its previous form and prevent the bone from weakening. Therefore, bone grafting is essential for retaining facial support and muscle structure. Without it, you could lose the support your skin and muscles need to upkeep your facial structure. Ultimately, causing you to look prematurely aged, and you may lose some functionality of your face and mouth. Consider bone grafting at our Algonquin, IL office if you live in the Crystal Lake and Huntley area to bring brightness back to your smile and face.
The Bone Grafting Procedure
Bone Grafting is a surgery that can fortify your mouth after tooth or gum extraction. Likewise, bone grafting is necessary to maintain solid bone mass for the placement of implants and bridges. First, Dr. Pottorff will take bone from other resources to create a graft that promotes new bone growth in the area. Then, the graft is used to guide in the regeneration of the bone to help restore your mouth to functional capabilities.
After receiving a bone graft, you become eligible for other cosmetic and restorative dentistry procedures that you may desperately need. These treatments include dental implants, bridges, and crowns that will help stabilize your mouth. However, without proper bone mass in your jaw, you cannot undergo such procedures. Ultimately, tooth replacement options are versatile and easy to acquire with proper bone mass.
Consult Us for More Information on Bone Grafting!
Visit or call Advanced Dental & Implant Care in Huntley, IL, to learn more about the benefits of bone grafting. Our bone grafting specialists can help you decide if bone grafting treatment is right for your dental health. Contact our office at 847-854-1200 to schedule your appointment today! We also service patients in the Crystal Lake, Huntley, Elgin, and Carpentersville area.