Sinus Augmentation Procedure and Benefits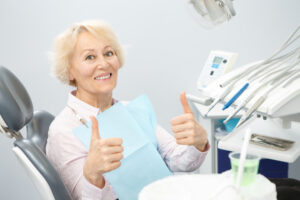 The sinuses are a connected system of eight, hollow air cavities placed throughout the skull. Some people believe they have something to do with how our voice sounds and how we process different smells. Others believe that our sinuses are responsible for helping filter the air that we breathe. The exact size and shape of our sinuses vary and can change over time. A small percentage of the population, around 10%, have an extra sinus.
At times, Dr. Pottorff may recommend a sinus augmentation before placing dental implants in your upper jaw. Typically, it is due to having insufficient space for the proper placement of the implant posts.
Sinus augmentation, also known as a sinus lift, is designed to increase the amount of bone in the upper jaw. Generally, this is the area between the molars and premolars on each side of your face. To do this, Dr. Pottorff will lift the sinus membranes to make space for new bone if a bone graft is needed or to place your dental implants.
When is a sinus augmentation procedure necessary?
As we know, sinus augmentation is an effective procedure for patients who would like dental implants, but whose sinuses may be perforated by the implant post. If this happens, you could experience a range of unpleasant symptoms, including:
Difficulty breathing
Nosebleeds
Nose pain
Headaches
By lifting the sinus away from the jaw bone, it makes it much more comfortable and safer when fitting your dental implant.
Often, recommended for patients who do not have enough bone in their jaw to support implant posts. There are a variety of reasons why a patient has an insufficient amount of bone in their jaw. For example, bone loss or bone deterioration can be due to periodontal disease or missing teeth.
Sinus augmentation procedure
Several different techniques can be used to lift the sinus to allow for the insertion of dental implants or placement of new bone underneath. The most common method involves making a small incision to expose the bone before cutting a small circle into it. Once exposed, Dr. Pottorff will fill the space beneath with a bone graft, either using a natural bone or an artificial bone grafting material.
Once the graft is complete, Dr. Pottorff will close the incision, and the bone is left to heal. Healing is essential for the new bone to permanently secure to existing bone and to continue to regenerate. The healing and regeneration process will take several months to strengthen the jaw. For this reason, it can be anywhere between 4 and 12 months after a sinus augmentation before having dental implants treatment.
Benefits of a sinus augmentation procedure
The principle benefit of a sinus augmentation procedure is that it enables dentists to carry out a dental implant procedure. Meaning patients in the Crystal Lake and Huntley area, who have a missing tooth or need an extraction can have the tooth replaced with a functional and attractive prosthetic. However, this isn't the only advantage that can be enjoyed by patients who undergo sinus augmentation.
Other important benefits include:
Prevention of loss of teeth due to the bone graft carried out during a sinus augmentation creating further support for existing teeth
Replacement of bone loss due to periodontal disease
Added bone to the upper jaw can help improve the appearance of the facial structure and give the patient an increased definition
If you would like more information about sinus augmentation surgery, our Algonquin dental staff will be happy to assist you with any questions you have. Advanced Dental and Implant Care is a top provider of implants and procedures in the areas of Crystal Lake, Huntley, and Barrington. We also treat patients in Cary, Lake in the Hills, Elgin, South Elgin, Woodstock, Carpentersville, East Dundee, West Dundee, Island Lake, and McHenry. No matter your location, we are the recommended provider, so feel free to give us a call at 847-854-1200.