Who Is A Candidate For Dental Implant Treatment?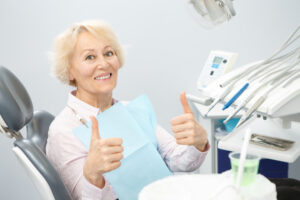 Adults of all ages benefit from dental implants in Crystal Lake and the surrounding areas. Whether you are missing a tooth due to injury, decay, or infection, or if you were born without a tooth, dental implants are a permanent solution to natural teeth. Once facial growth and development are complete, dental implants can also be a solution for adolescents. Adolescents commonly occur around the age of 18 for boys and 16 for girls. Contact our office, Advanced Dental & Implant Care: Christopher Pottorff, DMD, to see if you are a candidate for dental implants in Crystal Lake and surrounding areas.
What are dental implants?
Dental implants are a permanent solution to natural teeth that allow you to live the way you want. You will have the confidence to enjoy your everyday activities – eating, smiling, laughing, and talking.
A dental implant is thought of as an artificial tooth root in the shape of a screw. Once Dr. Pottorff places the implant in your jawbone (A), your natural bone will grow around the implant, providing a strong base to support a crown, also known as the artificial tooth.
An abutment (B), also called a connector, is positioned on top of the implant to support the Crown. The Crown is custom-made to fit your mouth (C) and match the color of your natural teeth.
For over 30 years, dental implants have benefited many patients. Implants look and function like your natural teeth, and they are the most durable devices available to support replacement teeth.
When an experienced implant dentist, such as Dr. Christopher Pottorff, performs dental implant surgery, the procedure is one of the safest and most predictable.
Two facts about dental implants:
Dental implants help stimulate bone growth, and they are the only restorative dentistry option that preserves your natural bone.
More than three million people in the United States have implants, a number that is growing steadily.
Expertise you can trust
There is a significant difference between "dental implant experts" and "dentists who do implants." Dental implants are sophisticated, complex devices that require specialized training and expertise to fit and place correctly.
When you choose an AAID-credentialed dental implant dentist, you can be confident you're working with an expert who has the extensive education, training, and experience required to make sure your dental implant surgery is a success. Dr. Pottorff will consult with you to see if you are a candidate for dental implants and advise on the best course of treatment.
Dr. Pottorff's professional affiliations include:
Associate Fellow of the American Academy of Implant Dentistry
American Dental Association
Chicago Dental Society
Northwest Suburban Study Club
McHenry County Dental Society
American Academy of Cosmetic Dentistry
American Academy of Implant Dentists
Illinois State Dental Society
Contact our office at (847) 854-1200 to schedule a complimentary consultation with your local implant dentist, Christopher Pottorff, DMD. During your consult, Dr. Pottorff will see if dental implants in Crystal Lake is the right course of treatment for your smile.
We also treat patients for dental implants in Huntley, Carpentersville, Barrington, Woodstock, Elgin, and South Elgin. To learn more about our office and to meet our staff, visit and follow us on Facebook. Read our blogs to learn more about the advantages of dental implants in the Crystal Lake area.